spinachdip's guide to the 2006 World Cup: Matchday 3 - It's a jungle out there
Matchday 3: Sunday, June 11Serbia & Montenegro vs Netherlands
(9:00 am ET - ESPN2/Univision)
Key player:
Netherland's #9, Ruud Van Nistelrooy (below). Deadly scorer, has many vowels in his name.
Reasons to watch this game:
The Dutch are always talented and entertaining to watch, but they also have a tendency to self-destruct, which makes the Oranje a compelling team to watch. The Serbians (and to a lesser extent, the Montenegroes) are also talented and also temperamental. Though I have to go with the Dutch since they don't have a history of genocide.
Reasons not to watch this game:
While I do love the orange-clad Dutch supporters, they are kind of a strain on the eyes.
Verdict:
Match of the weekend - either of these teams could win the group, and both could end up last. And I've always had a soft spot in my heart for the Dutch for their style of play.
Mexico vs Iran
(12:00 pm ET - ABC/Univision)
Key player:
Ali Karimi, Iran's
unibrowed wonder
.
Reasons to watch this game:
Mexico has been decent in the last couple of World Cups. Iran is talented has great attacking talent, even if they are a little suspect in the back.
Reasons not to watch this game:
I'm guessing most US fans hate both teams - Mexico out of principle and Iran because they're Iran. I guess it depends on which you think is worse - denying Israel's right to exist as a nation or causing diarrhea.
Verdict:
Meh. Could be entertaining and could decide second place in the group and it's a rare game that lets you root against both teams. But it is a letdown after the S&M vs Netherlands game. It's up to you. I think you should get out and get some sun.
Angola vs Portugal
(3:00 pm ET - ESPN2/Univision)
Key player:
Portugal's young winger Cristiano Ronaldo, who looks a lot like a giraffe.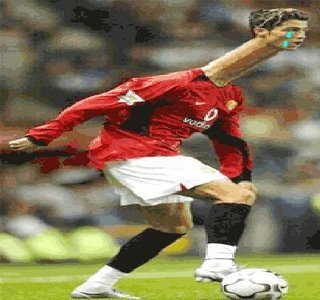 Reasons to watch this game:
This is Portuguese legend Luis Figo's final World Cup. He's gotten a touch slower over the years but he's still magic on the ball. The
biftoque
eating, Port drinking Iberians are mighty motivated after losing to USA (USA?!) and Korea last time, and then losing to Greece in Euro 2004, a tournament they hosted. Also, Angola used to be a Portugese colony - they might be a weeee bit motivated too.
Reasons not to watch this game:
Come on, we're talking frickin' Angola here and Portugal is like that no-good boyfriend of yours who says he's going to straighten out, but you inevitably catch him smoking crack with some hooker. I hate that.
Verdict:
Angola's way overmatched here so you could skip it. But unheralded African teams often pull off surprises (Cameroon vs defending champs Argentina in '90, Nigeria vs Spain in '98, Senegal vs defending champs France in '02), and as talented as Portugal is, they might even start playing up to their potential.